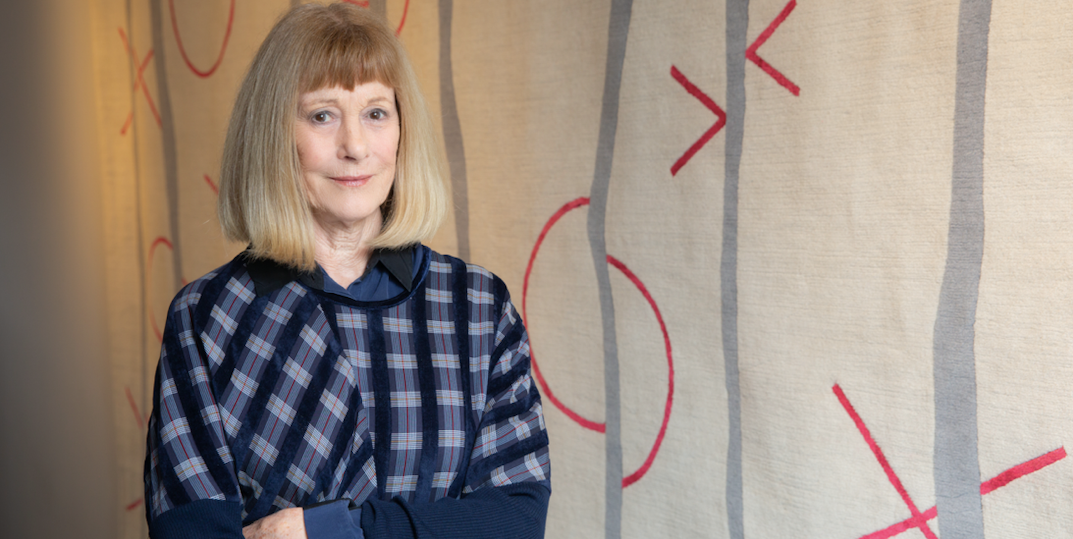 Lady Deirdre Dyson on how to grow your business internationally
Since graduating from Wimbledon College of Art, Deirdre Dyson has worked as a freelance artist and illustrator, living classroom teacher and graphic designer. It was a chance encounter and a need for rugs that led Dyson to rugs, when a store owner on King's Road in London asked Deirdre to design a collection. Her thrill and passion for this new challenge was the start of a new career and she then took charge of the store.
Her business has since flourished, and in 2020, she took the bold step of opening her own gallery in Paris. Then the pandemic struck. Here, Dyson shares his tips for running your business in un-chartered waters and expanding your presence overseas.
Find your USP
"If you're growing your business, one of the first things you need to know is what you're bringing to the table that other businesses can't. For us it's that blend of fine art and craftsmanship. crafts, and design my rugs into collections – each based on a theme each season. I haven't seen a lot of places doing what we do. "
Develop where it makes sense
"For me, Paris was a natural choice. I already spent so much time there, and I have exhibited many times, at Maison & Objet. I knew that I had a clientele there and that the creations were well received. When if you plan to expand, you should only go where you know there is a market for you. "
Building the best team in the field
"… before I hired someone to be there all the time. I thought it might take years for people to walk through the door and I would just be sitting there waiting. I knew I had to actually forge myself. reputation and a bit of interest in having a physical presence in Paris, but I also knew I couldn't be there all the time, so I found this lovely person who is a designer by training and understands color and Paris, and is bilingual, and she agreed to actually be there to answer emails, take people out and introduce them. At the same time, I found a wonderful PR company with a presence in Paris and they were excellent at laying the groundwork. The best thing you can do is build a strong site-based team. "
Have confidence in your product
"Growing a business – even starting one – is a huge risk, but you have to have confidence in what you are doing if you are to do well. I have a certain degree of confidence, but at the same time I have a balance. , because I also have a lack of self-confidence. And I think that's true for every creative person. You know you can do it, and you did it, and you produced it, but nobody knows what's around the corner There might be someone better than you I think everyone should remember that there will always be competition, you just have to be brave enough to deal with it.
"I think it's good to have a mixture of self-confidence and self-doubt, because they feed off of each other. Self-doubt keeps you on your toes and trust you. lets continue. "
Embrace the positive aspects of change
"When the pandemic hit, I first felt very cut off from what was going on in Paris, but everyone quickly got used to Zooms and Slack chats and video calls. It's now so entrenched in our way of working that doesn't seem strange to all. The way we work has changed so much over the past 18 months that it's now easier than ever to work internationally. "
Keep a loyal team by your side
"When I left I had no idea how to run the business – I just built it from week one as I wanted and kept a small team around me. Now all of them. Those years later, every member of my team is invaluable. Building a loyal and hardworking team is so essential. I always encourage them to come up with ideas, move the business forward and discuss what improvements we can make. They find this really exciting little adventure. It's a real teamwork and they feel so part of every success. They are like a second family. I feel very lucky. "
This content is created and maintained by a third party, and imported to this page to help users provide their email addresses. You may be able to find more information about this and other similar content on piano.io